Otonomy of Forest Management Unit (KPH) in South Sumatera Province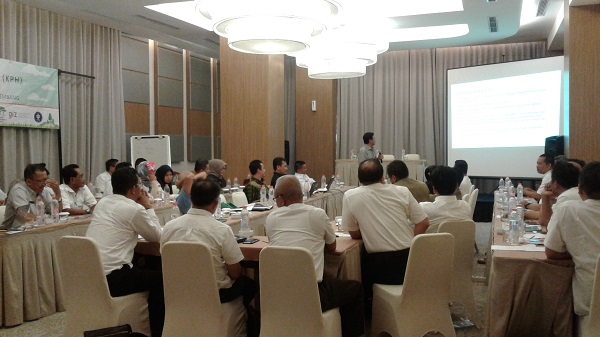 Contact Person : Mita Ramayati Pratiwi


Following the activity series of Locally Appropriate Mitigation Action in Indonesia (LAMAI) project, CCROM SEAP as project partner of ICRAF implemented a one day of Focus Group Discussion (FGD), which was held on October 31, 2017 at Santika Hotel Palembang. This FGD was attended by 14 members of KPH in South Sumatera, Bappeda, Expert Forum (FTA), Forestry Agency, Forest Area Conservation Center (BPKH) Wil. II Palembang, BP Das Musi Palembang, Center for Climate Change Control (PPI), and Forest Fire South Sumatera Province.
The FGD was opened by Ir. Sigit Wibowo, Head of Forestry Agency in South Sumatera, followed by presentation from Mr. Khairil Wenda (KPHK MOEFI) entitled General Overview of Forest Utilization Cooperation on Forest Management Unity, and presentation from Prof. Bramasto Nugroho (IPB) about Funding Management System to attain the individuality of KPH.
The main objective of this FGD is to provide an understanding related to Ministry of Environment and Forestry Regulation No. 49 Year of 2017 on Forest Utilization Cooperation in Forest Management Unit (KPH) as well as conducting discussions on business development and fund management opportunities with the support from various stakeholders through cooperation with local government in South Sumatera Province.
Throughout this meeting, Head of UPHD KPH Wil. XIII Lakitan Bukit Cogong and Head of UPTD KPH Wil. I Meranti also provides information and share some experiences in their respective region on what can be done in the process of Forest Utilization for KPH Business.
Published Date: 07-Nov-2017